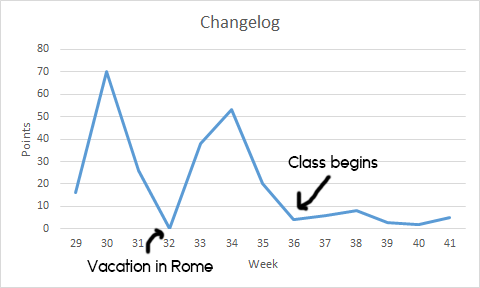 So this is how progress looks so far on Software Inc. There are huge spikes and rapid drops. The big spike in the beginning was due to a week where I had no obligations, it makes me wonder how quickly I would be able to finish this game if this was a full-time job. Probably less than a year, I'm sure.
I had a quick trip to Italy with my wife and didn't bring a laptop with me, so that explains the first drop. Currently, I'm earning my bachelor degree in Computer Science and I will be done around May next year. I also work a part-time job at a pension company, but my job has had little to no impact on the amount of work I can get done, but my classes are draining me completely. I only have a couple of courses left and my thesis, but I'm just not motivated to finish it. It feels like I've finished all the interesting courses and now I'm just doing it to have something on my resume. So work on Software Inc. will be a little slow for the next six months, in between holidays. I'll scramble to get it polished before the demo I have planned this month.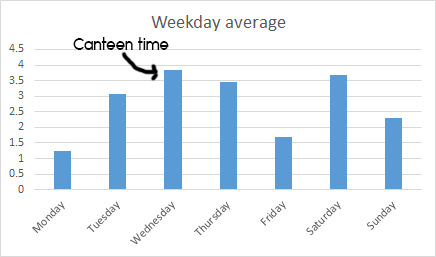 Here is one thing that surprised me, though; during the current slow period the average amount of work I complete on Wednesdays has kept pretty steady compared to the other days. On Wednesdays I have 4 hours of waiting for the next class to begin, so I sit in a canteen and try to get a little work done on Software Inc. and it has proved extremely valuable. Which just goes to show that a little work on a regular basis can have a huge impact, although it doesn't feel as significant as the big sprints, but the sprints have probably helped in keeping the Wednesday-average high to begin with.